The Hottest DCEmu Posters
Gamepark 32 (GP32) Emulators
Name
Gigadrive
Author
Description
Genesis/ Megadrive Emulator for the GP32
Screenshots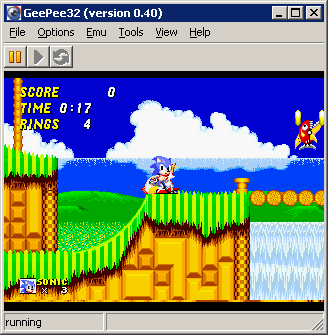 Download
Information

+ Very premilinary YM2612 sound. It plays a simple fixed volume square wave beep in
response to Key On/Off events. In other words it sounds worse than a Spectrum!
And yes, it will get better don't worry!
Please don't e-mail me saying the sound sounds funny, I realise!

Of course since there is no Z80 emulation only the minority of games which don't
need the Z80 for sound work. I've compiled a short list, let me know if you find others
as I'm curious about this!
Afterburner II
Dynamite Heady
Golden Axe 2/3
Gunstar Heroes
Gynoug
Mega Bomberman
Moonwalker (not running yet)
Phantasy Star 4
Revenge of Shinobi
Sega Soccer
Shinobi 3
Sonic 1
Sparkster and Rocket Knight Adventures
Street Fighter 2 Plus Champion Edition
Streets of Rage
Streets of Rage 2
Strider
Sword of Vermillion
Test Drive 2
Toe Jam and Earl